Welcome from the Matthews in Sydney,
It has been an exciting beginning of the year in the work in Sydney this year. After Hope and Matt's wedding in January. Thank for all of the wonderful support and for all who were able to come along to the wedding. It was an incredibly God honouring day and a beautiful start for this lovely couple. Please pray the Lord continues to work in and through their lives.
After the wedding, things kept going in the world of ministry. We were able to get things started off well for the year in the city and at Rouse Hill Bible Church.
The meaning of life with Dr Sam Chan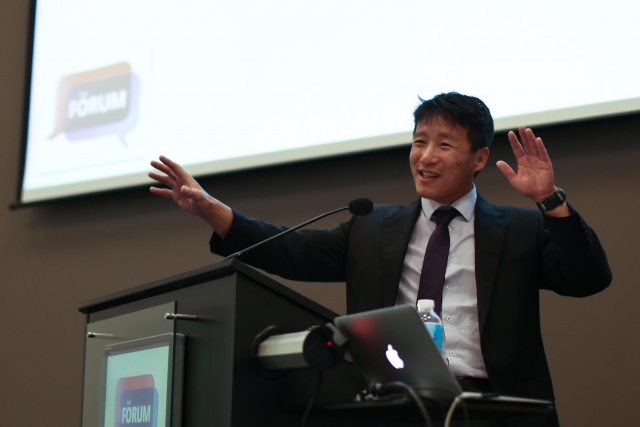 Morning + commute = too early + crowded... again
Lunch + food = leftover sandwich... again
Evening + commute = late + crowded...again
Years come and go = So, what is the point of it all?
If this is an impersonal universe made up of impersonal atoms, then any sense of meaning is just imposed on us. We are one of many random events.
But what if the universe is personal? What if there is a loving, personal God behind it all?  Could beauty and wonder be part of our story? Could there be a point to it all?
Sam Chan started off the year at The Forum with a new series where he answers these questions from above as he presents the answers from the book of Ecclesiastes.

Leviticus series at Rouse Hill Bible Church
Throughout the beginning of the year, Ben Kwok and I will be working through the book of Leviticus.
Please pray that we can share how the richness of this Old Testament text can apply to those who live in the age of grace.
Reel Dialogue - Brooklyn screening
We had a fantastic start to the Reel Dialogue ministry opportunities. We had an evangelistic event that included the screening of Academy Award nominated Brooklyn.
It was an engaging evening of film and discussion with some of the industry's commentators. After the film, Ben McEachen, Mark Hadley (The Big Picture ) and Adrian Drayton (Insights Magazine) will discuss the film and what it says about immigration, love and value of community. It was a great lead into Gospel conversations and an opportunity to invite people to various events throughout the city.
DO YOU WISH LIFE HAD A RESET BUTTON?
What would it take to hit the reset button in life? Ever considered how God may be able to help?
Al Stewart and Craig Tucker will be working through the book of Luke to discuss how Jesus provides us with a reset button in life. Please pray for this series in the month of March.
Cathy will begin the ministries at Bible Study Fellowship and scripture classes in the public schools this month. We hope to have an update from her in the coming months to give you an update soon.
Thank you for your continued support and prayers. please do not hesitate to contact us with any questions. You can read more about our work in Sydney on Facebook: Matthews Down Under, Reel Dialogue, Russelling Reviews, Rouse Hill Bible Church and City Bible Forum.
The adventure continues..
The Matthews